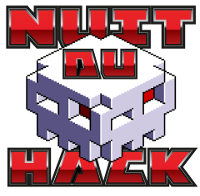 Présentation d'un write-up de résolution du challenge « Guessing – So Basic » du WARGAME de la Nuit du Hack 2016.
Le weekend du 02-03 juillet 2016 se déroulait le WARGAME de la Nuit du Hack 2016 sous forme d'un CTF Jeopardy. Ayant eu l'occasion et le temps d'y participer avec quelques collègues et amis, voici un write-up de résolution d'un des challenges auquel nous avons pu participer.
Catégorie : Guessing
Nom : So Basic
Description : Mister Julien Ducul has a dog named Rex, his dog is 5 years old and so he wanna make a fancy website in order to mahe this birthday special. Unfortunately, he is not able to remember the credentials he has configured on the website.
URL : 172.16.1.51
Points : 50
tl;dr : Login : jducul – Password rex2011 (le chien à 5 ans)
Pour ce challenge, une simple tentative d'accès à « http://172.16.1.51 » nous demandait un login et un mot de passe. D'après le titre du challenge, on en conclu que l'authentification est une « Basic Authentication », générée via un simple « .htaccess » et « .htpasswd » par exemple.
La catégorie du challenge, de type « guessing » informe également que sa résolution va passer par différents tests et suppositions judicieuses.
Analysons un peu l'énoncé :
Le créateur du site web protégé se nomme « Julien Ducul ». Ainsi le login est très certainement son prénom, son nom, ou une combinaison des deux.
Ce monsieur à un chien, « Rex ». Il n'est pas rare que les gens mettent le nom de leurs animaux en guise de mot de passe.
Autre information d'intérêt : le chien a 5 ans ! Ainsi, il est né en 2011 🙂 !
Plus qu'à faire quelques tests avec des logins / password potentiels…
Série de logins :
julien
Julien
ducul
Ducul
julien.ducul
Julien.Ducul
jducul
Série de mots de passe :
Rex
rex
2011Rex
2011rex
Rex2011
rex2011
Et le couple qui match :
Login : jducul
Password : rex2011
De là, un fichier « flag.txt » est disponible, contenant le flag.
Flag : ndh2k16_68a3fhosqahxdxc
Merci à toute l'équipe de la NDH2K16 pour cet événement et pour toute l'organisation !
Salutations à nj8, St0rn, Emiya, Mido, downgrade, Ryuk@n et tout ceux dont je n'ai hélas pas le pseudo :), on remet ça quand vous voulez ? // Gr3etZ